Home Delivery
We come to you.
Refill Fast
Wait times less than 10 minutes
Personalized Care
When you call, you speak to a person.
Locally Owned
Serving the community for over 35 years.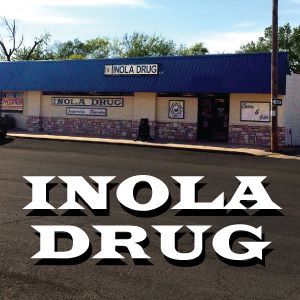 Inola Drug has been providing pharmacy services to the Inola area since 1981. We are a full line pharmacy and accredited by Medicare. Besides offering a wide variety of prescription and over the counter drugs, vitamins, and supplements, we also offer greeting cards, gifts, digital picture processing, and UPS shipping services.
Since we are an independent drug store, we are able to offer many services the big box chain stores do not, such as specialized medication compounding, free local area delivery, nursing home/assisted living medication blister packaging, and Medicare billing for diabetic testing supplies and durable medical equipment. We accept all insurance plans including Medicare, just like the large chain stores. We also strive to save our customers money on their prescriptions through therapeutic class generic substitution, utilizing pharmaceutical manufacturer coupon programs, and free Medicare Part D prescription plan analysis.
Stephanie Rodriguez, PharmD
Carla Bynum, DPh
Southwestern Oklahoma State University